Ten Best Twitter Designs from the Fortune 100
In a recent feature my team took the time to detail Twitter Marketing Lessons from the Fortune 50. With the list of Fortune companies we have compiled we decided it would be fun to review the creative side. We all know most of the Fortune corporations are using Twitter for monetary gains but how are they doing on the artistic aspect. Surprisingly most of them have generally basic designs and it was difficult to choose a top ten list.
Corporate brand identity comes with all kinds of hoops to jump through. There must be a good reason why most of the brands on the Fortune list have a plain look. We did come up with ten stand-outs that we would like to feature for their visual appeal. In order of their appearance on the Fortune list we present the best designs from the richest 100 companies in America.
1.) General Electric – #6 on the Fortune 100 with $151.6 billion in revenue.
Energy giant GE does a good job playing to the "green revolution" which is omnipresent on social media.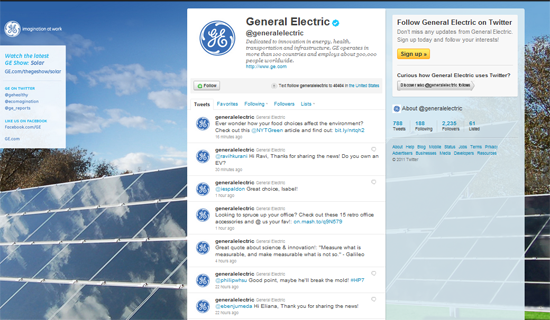 2.) Ford – #10 on the Fortune 100 with $128.9 billion in revenue.
Motor City's darling brand Ford takes a multi-faceted approach by highlighting their different tenets: drive quality, drive green, drive safe and drive smart.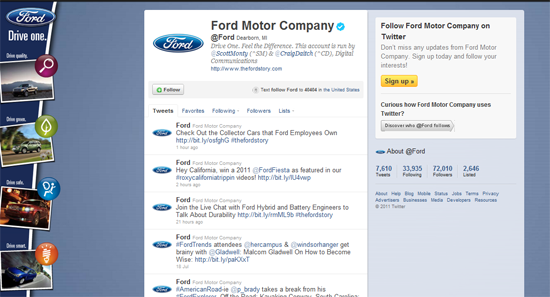 3.) Home Depot – #30 on the Fortune 100 with $67.9 billion in revenue.
Nothing says summer like a man grilling some meat in his backyard. Home Depot specializes in building rapport with their consumers.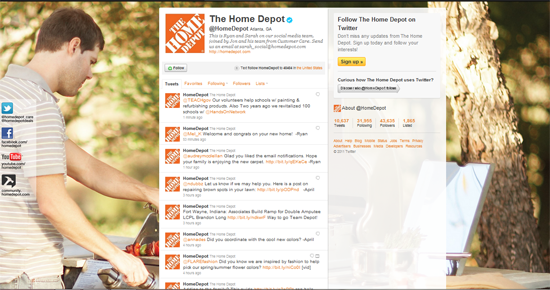 4.) Target – #34 on the Fortune 100 with $67.9 billion in revenue.
Red is an all-time favorite in the marketing world but nobody uses it better than Target. We love seeing the Red spheres at their physical locations. They have continued the trend on their Twitter page with multiple red Target symbols throughout.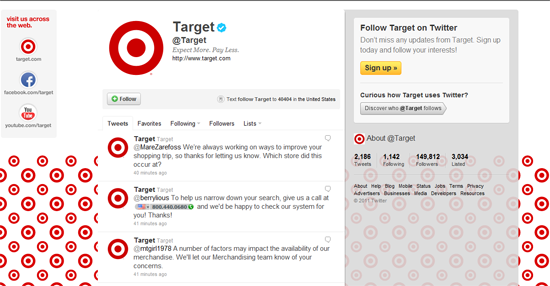 5.) Microsoft – #38 on the Fortune 100 with $62.4 billion in revenue.
Microsoft rolls out a calm orange-yellow tone with their trademark floating rectangles. Simple yet creatively done.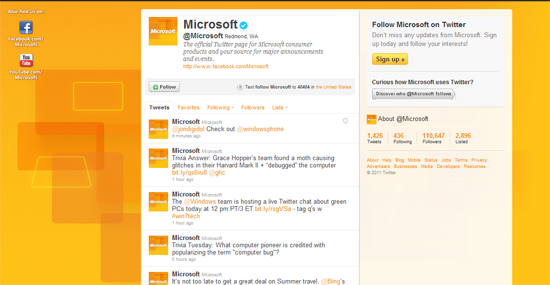 6.) MetLife – #46 on the Fortune 100 with $52.7 billion in revenue.
MetLife Blimp's Twitter page shows the best view in the entire Fortune 100. Overlooking all of New York City with blue skies as the backdrop it is easily one of our favorites on the list. Keep in mind that MetLife does not have an official page and they keep one for their Snoopy branded blimp.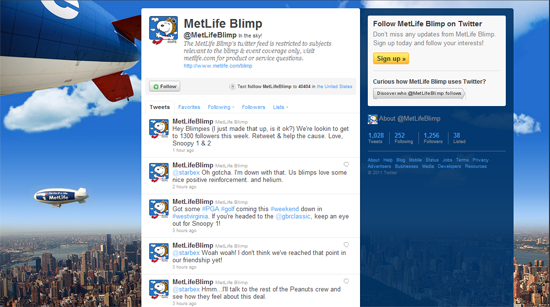 7.) Best Buy – #47 on the Fortune 100 with $49.6 billion in revenue.
We love the psychological approach to marketing and we believe Best Buy builds great rapport with the customer with the army of "blue shirts" on their Twitter page. The electronics store makes you feel like you are part of their tribe with their design.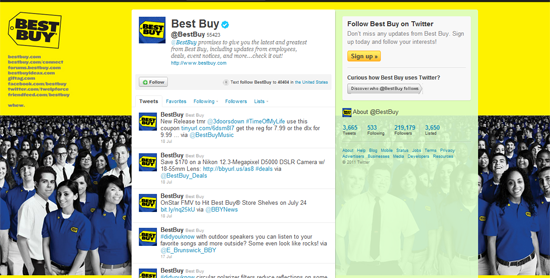 8.) Coca-Cola – #70 on the Fortune 100 with $35.1 billion in revenue.
The soft drink giant takes a simple approach with a heavy red tone that draws the eyes in. We can't help but feel the love on Coke's design.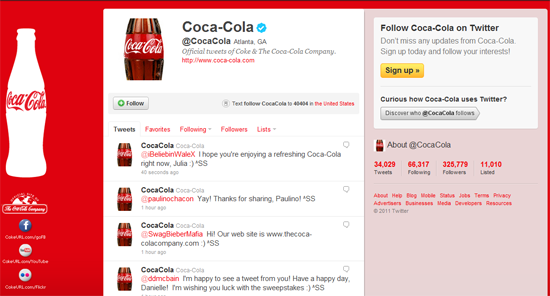 9.) Allstate – #89 on the Fortune 100 with $31.4 billion in revenue.
Easily one of the best designs on the entire Fortune 100 goes to insurance company Allstate. Keep in mind we ranked this list based on revenue rather than design itself. The design uses their slogan "You're in good hands" with different shades of blue.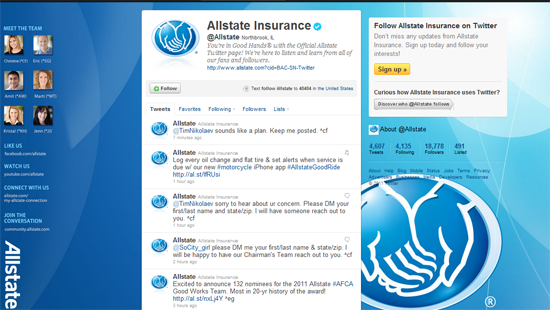 10.) Deere – #98 on the Fortune 100 with $26.0 billion in revenue.
John Deere tractors are a staple of American rural life. With a great backdrop of the countryside we give the final spot to the boys in green.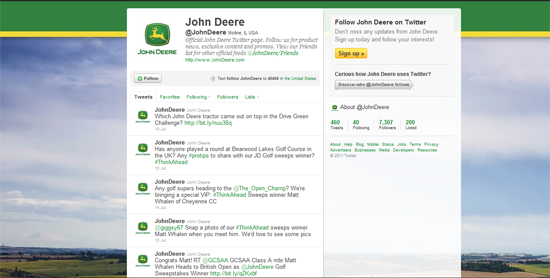 Guest contributor Jay Singh is the co-founder of ViralMS, a social media agency. ViralMS offers large scale social media campaigns along with the ability to buy Twitter followers.

Post published on 25th July 2011
Related Design Stuff
There are 4 comments
Our Sponsors
Recommended Websites