Top 20 Free Mac Applications for Front-End Designers
Apple's product line of versatile notebooks is the usual choice for designers. Nestled along with elegance, ease of usability, and great applications that are consistent with Mac's OS compatability, this is truly a designer's paradise. Many of these applications are useful and help you evolve as a better designer, however some are better than others in terms of accessibility, and speed. Knowing how hard it may be to choose the correct application for your needs, we've compiled a list of the Top 20 Free Mac Applications for Front-End Design ready to be downloaded onto your Mac.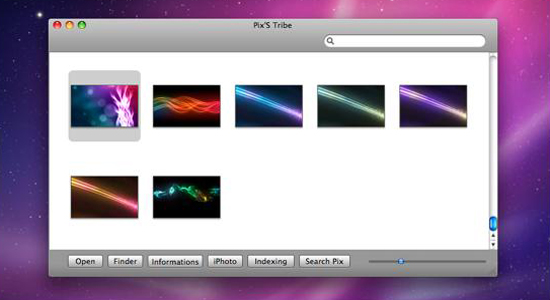 Pix's Tribe lets you find images at super speed. You're able to quickly retrieve, select, and import select digital pictures into or other applications. This makes it easy to find images for clients and all your projects within your desktops reach. This works by indexing all your images within your network, and then returning results with your images by keyword, technical informations and more.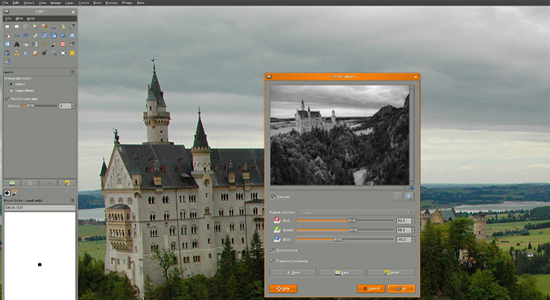 Gimp is a popular and free photo editing software. GIMP is an abreviation for GNU Image Manipulation Program, and it is supported and updated frequently. Users perform basic tasks such as photo retouching, color correction, and image resizing. Other more complex tasks like image composition and creation are also allowed. GIMGP also offers further settings for advanced users and it can be customized utilizing a variety of plugins for several needed fucntions. With Gimp you can also create and save your own customized brushes and patterns so that you can use them at a later time. This free app also lets you batch process all your photos for quick editing, and custom fit it with over 100 different plug-ins and extensions available here. The following formats are supported: BMP, GIF, JPG, PCX, PNG, PS, TIF, TGA, XPM.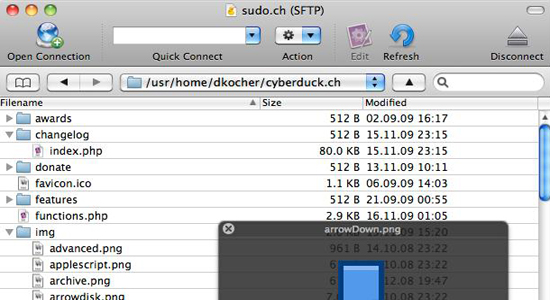 Cyberduck, an open source FTP, SFTP, WebDAV, Mosso Cloud Files and Amazon S3 browser for Mac is perfect for designers that have the slightest and general knowledge of how to upload and display images or documents onto the web. Its simple interface makes it easy to select and instantly transfer files between servers and directories. You can also drag and drop bookmarks to and from your Finder, and it easily integrates with external editors such as BBEdit, TextWrangler or TextMate.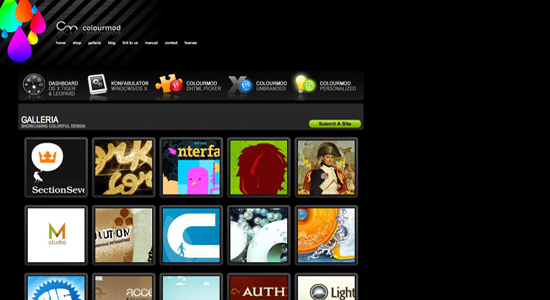 ColourMod is a dashboard widget for you Mac that can retrieve any color value for you when called upon. This application lives in your widget area and it can define any set of hex values, RGB, CMYK or HSV. The color picker is also compatible with all major browsers and has a compact, streamlined and aesthetically pleasing interface.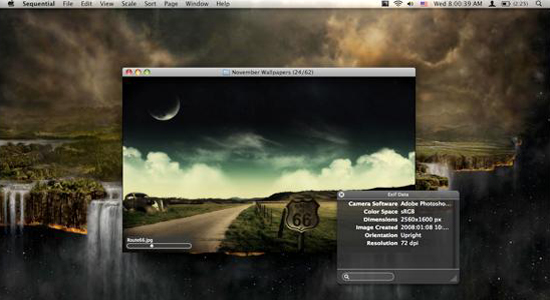 Colorate allows you to generate quality and accurate color schemes for your projects. Palettes are generated from a particular color swatch dragged from another application or obtained from an image. This automatized tool for the creatino of palettes also has an integrated Image Analyze feature and you can add new palettes to the Library by pressing ".ctl".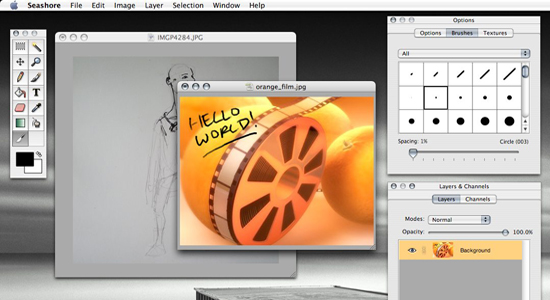 Developed with GIMP in mind, Seashore is a useful cocoa application that makes it a great choice for OS X users. With Seashore you're able to edit and create graphics with a variety of tools such as gradients, textures, layers, and more. Other features included are layers with over 20 merging effects, full transparency effects, 6 basic gradient effects with 16 variations, plug-in filters and more.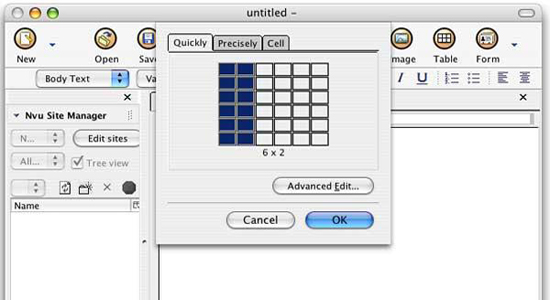 Nvu is a quality WYSIWYG editor built around Gecko (the rendering engine for Mozilla-based browsers). This application acts as your set of web designing skills, and even the most novice of designers will have little difficulty designing websites with the graphics they've created. There's also a tutorial on How to Design a Website with Nvu that can help you get started. Nvu also comes with a built-in FTP support that allows you to upload your pages to your web server, however, the only downside is it doesn't come with any advanced features. This app also comes with Template support allowing you to create a layout and reuse it when necessary. You can also use the MarkUp cleaner feature that lets you clean your code and remove uneeded or mal-written strips of code.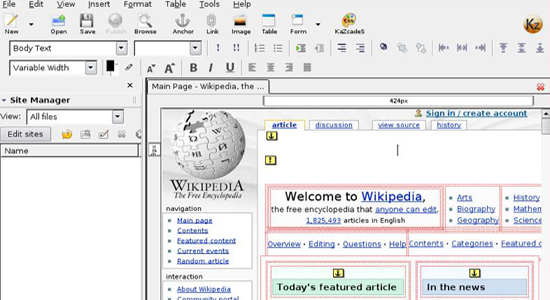 KompoZer lets you design and develop websites using WYSIWYG features and powerful CSS editing. This app can be seen as an open-source alternative to Dreamweaver on your Mac. KompoZer offers complete CSS support, code viewing/editing, tabbed views, FTP site management, color variations, split views, live preview, and more. You can even call for W3C to check your design for valid mark-up. More features included: Integrated file management via FTP, easily switch between WYSIWYG Editing Mode and HTML using tabs, extended colorpicker, customizable toolbars, and an automated spellchecker.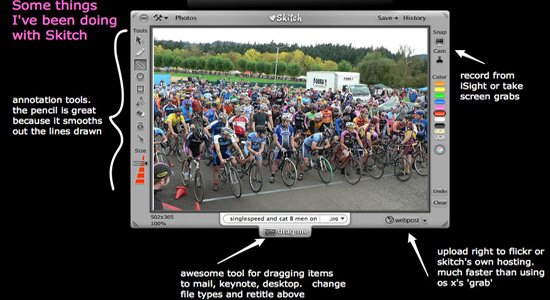 Skitch lets you easily annotate pictures and graphics. Besides the fact that you're able to take quality screenshots of anything that lies on your screen, Skitch combines this feature with drawing and annotation tools. You can mark-up your images with colored arrows, text, highlights, boxes, and more. Quick overview of features: snap entire webpages, screenshot applications, easily sketch an idea, integrate with your iPhoto Library, annotate with circles and gorgeous arrows, re-size and crop by simply dragging a corner, and more.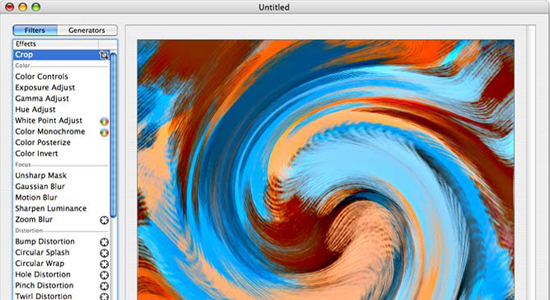 This small but useful application lets you customize and edit your images with various Photoshop-like filters and effects. You're also able to take advantage of several masking effects, the exporting of files in major formats, and the insertion of these images into web layouts. With Image Tricks you can also create unique backgrounds and abstract images for business cards, web design, print materials and much more. Not only that but you'll be able to adjust colors on several levels, create blur effects, around 100 unique masks to be applied to images, iPhoto integration, and the option of importing over 20 different image formats.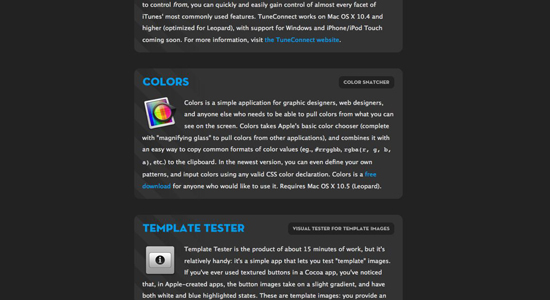 Colors lets you find and sample color values from anywhere on your screen. Then you can copy/paste these RGB values into any application such as Photoshop or Gimp. This is very useful for the designer that wants to create a Mac-like interface, or if you want to match certain colors to select graphics. Colors lets you pull colors from other applications, quickly copy common formats of color values to the clipboard, and define your own patterns, and input colors using any valid CSS color declaration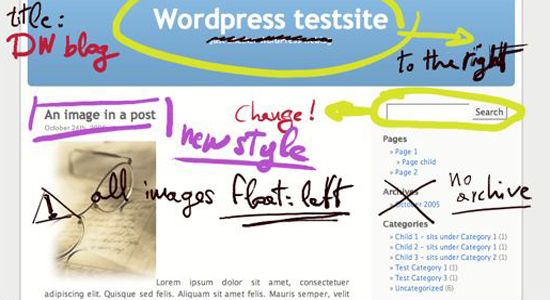 CocoPad is a simple drawing pad that lets you doodle anything with a mouse or tablet pen. For front-end it's best used as a tool to mock-up a websites layout or a graphic by adding various visual notes. Import and export sketches and doodles in various types of formats and resolutions.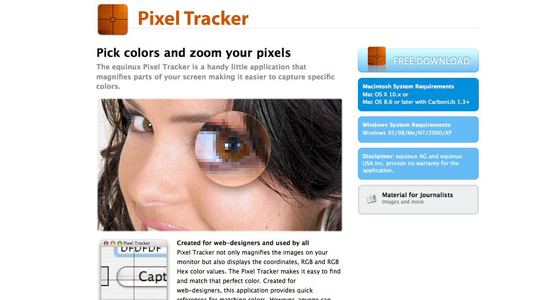 Pixel Tracker takes your images and then magnifies them on your monitor for a much better view of pixeles deeply rooted into the image.You'll be able to work with RGB and RGB Hex color values making it simple and easy to match colors. Pixel Tracker not only highly magnifies your images but you'll also be able to view displayed coordinates, RGB and RGB Hex color values. Its main feautre is that it provides a quick reference for matching colors.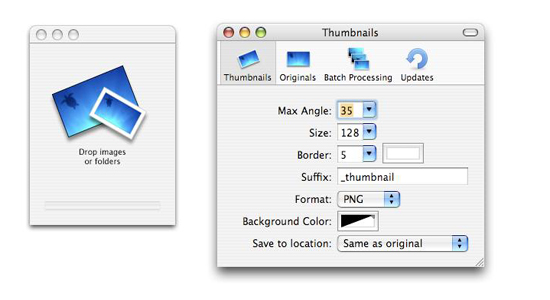 This app allows you to drag and drop images to create rotated thumbnails with borders and drop shadows that contain customizable angles and border sizes. This can be great for that chunk of images that need to be converted into thumbnails and then given some effects. You can drag images from folders, paste images from the Clipboard, and paste or drag in URLs to images. For those of us that like to be updated there is a small progress bar at the bottom that tracks the overall progress of a batch.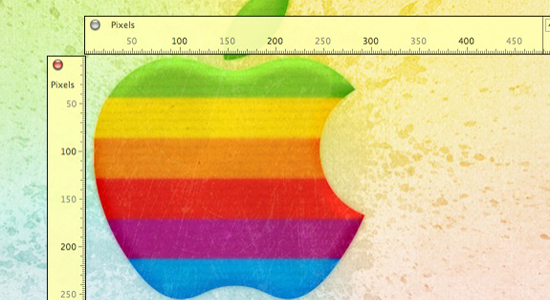 Free Ruler for Mac OS X is very useful if you're looking to measure the width and height of webpages, logos, graphics, and anything else on your screen. If you wish to resive the ruler (which runs horizontially and vertatically) then the lengths range from 200 pixels to 5000 pixels. A few features that comes with the latest version of Free Ruler is the measurement of objects in pixels, inches, picas, or centimeters, automatic and quick alignment of rulers, customizable transparency for visiual appeareance, tick marks that follow the mouse location for more precise measurement, single key shortcuts for most ruler functions, and a useful conversion assistant that helps you set ruler resolution based on screen size and resolution.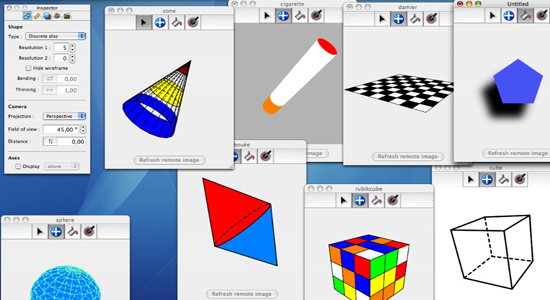 ShapeOnYou allows you to display and animate a wide range of vectorial 3D shapes. It was designed to let the user easily drag and drop the 3D work in other applications that support animation. Once images are processed or created using ShapeOnYou, your images will be smoothly resizable, the 3D rendering will detect any hidden edges, shadows, shading, you"ll have a large set of basic and complex shapes at your disposal, ability to create your own extruded shapes, numerous export formats : PDF, EPS, SVG, VRML, X3D, TIFF, PNG, JPEG, and Linkback support./p>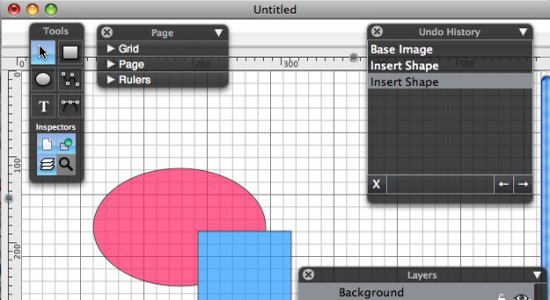 DrawBerry empowers you with the skill to create vector drawings with detailed layers, use powerful drawing tools, and export your graphics. This complete and easy-to-use drawing solution gives full control of CoreImage filters, a magnifying glass for those hard to view areas on your graphic, and a nifty undo history feature.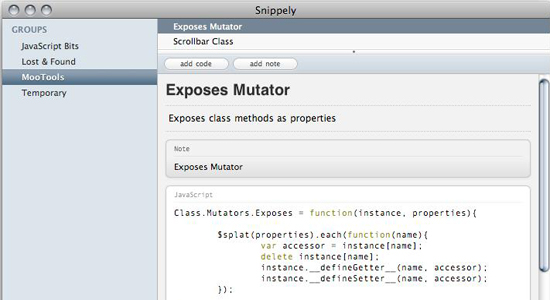 Snippely is pretty unique and excellent tool for orginizing your text and code in snippets within corresponding categories. This application will let you save and organize your code snippets in one location so that you're able to quickly find the right set of codes you need. This tool can be useful for those designers that are knowledgeable on some scripting languages and wnat to keep the code that will make their graphics work organized and not all over the place. Also, when you're not editing a specific string of code, the snip will be syntax highlighted according to the language selected.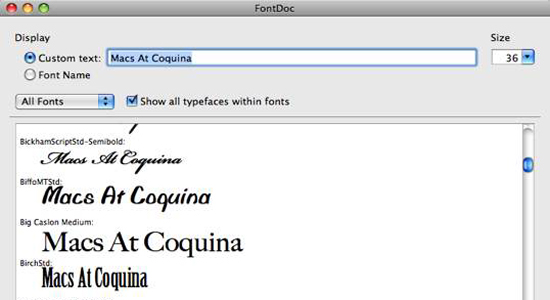 FontDoc is a pretty simple application that allows you to view every font in your Mac using any text and size. You can easitly save, print, or just view your fonts. At times when you're not sure what text to use for what project, this tool can come in handy for viewing various possible choices in a "preview mode".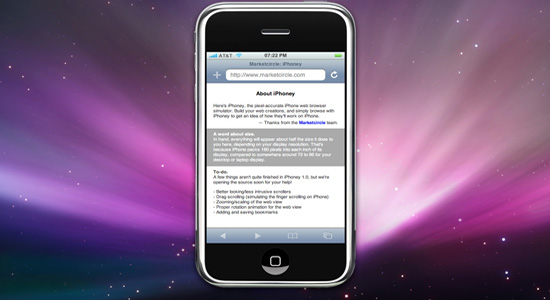 iPhoney gives you an accurate iPhone-like web browsing environment right down to the last pixel. This is a great way to view how your sites and graphics will look on an iPhone, then you'll be able to make the necessary adjustments for a pleaseant viewing and browsing on all accounts. A quick overview of the features included with this tool: testing enviornment with your iPhone-enabled, being able to open any website that works with Safari, otate to see websites in either portrait or landscape views, test browser redirection scripts, being able to turn off plug-ins (i.e. flash) and the option to contribute to this applications open-source code here

Post published on 16th June 2010
Related Design Stuff
There are 3 comments
Our Sponsors
Recommended Websites